Lyndsey is able to speak to your audience of any size on a huge range of topics including:
Love, attachment, empathy and connection in families
Supporting families in a sleep crisis without sleep training
Infant feeding challenges
The epigenetics of sleep
Gentle sleep for infants, toddlers and children
Normal infant behavior
Safe sleep and bed-sharing
Eating and food challenges with toddlers
Feeling confident as a parent
The impact of stress on sleep
Sleep biology
Breastfeeding through childhood illness
And many more! See Lyndsey's CV here.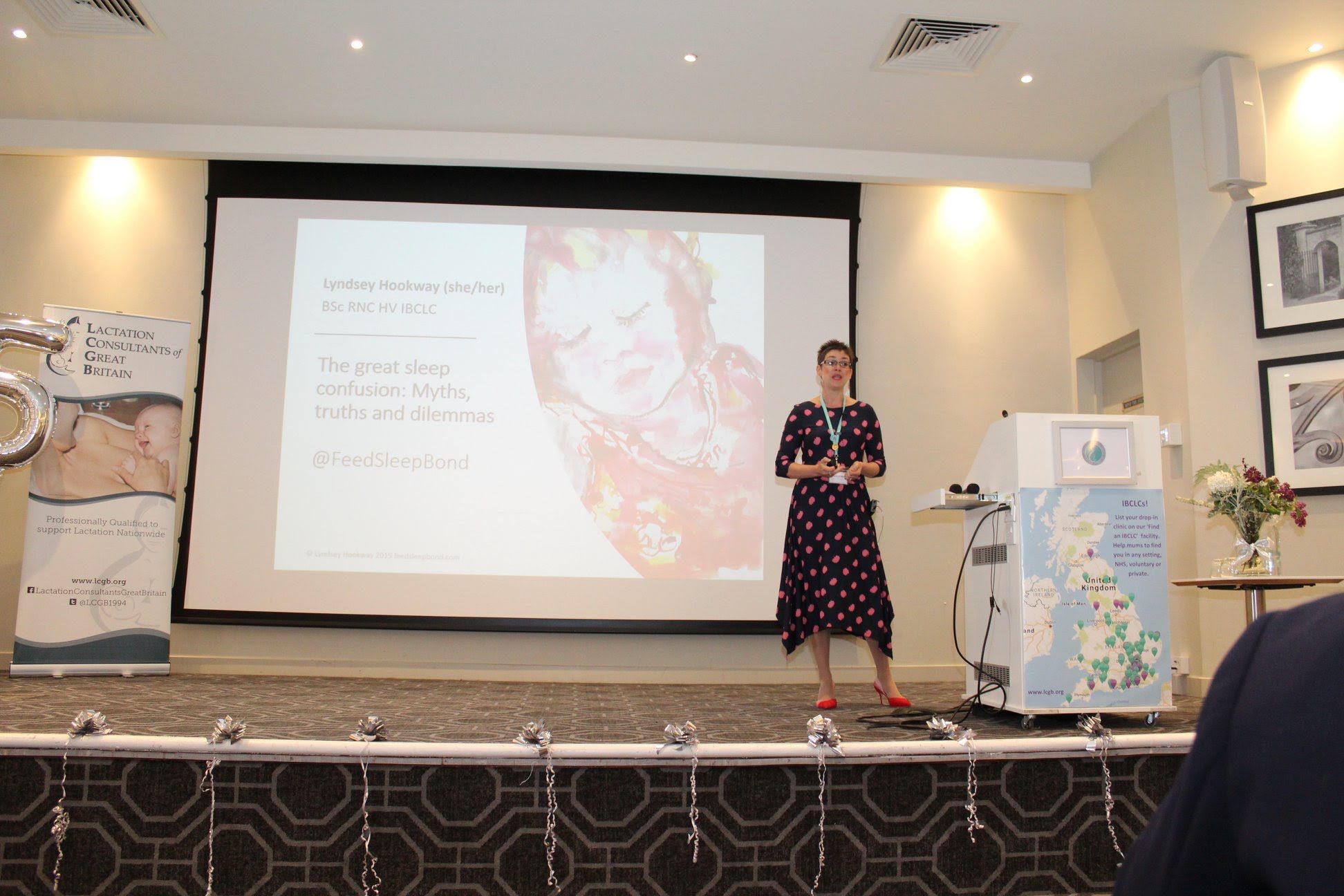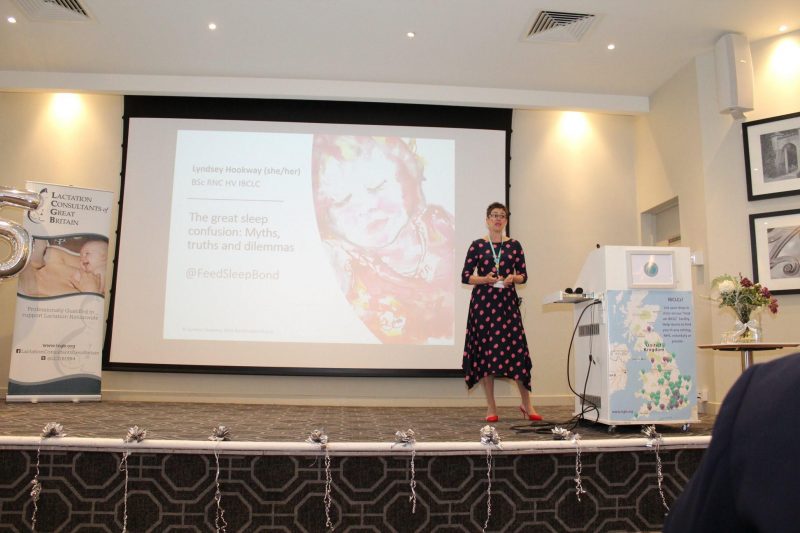 Other training
Lyndsey is the co-founder and clinical director of the Internationally renowned and well-respected Holistic Sleep Coaching Program. You can train with her and her team of International experts in the art and science of holistic sleep – which always prioritises the parent-infant bond, responsive feeding and never involves leaving children of any age to cry. See www.holisticsleepcoaching.com for more details and to join the waiting list. Lyndsey also offers bespoke training, as well as mentoring sessions for sleep and early parenting support professionals.
Mentoring
Are you a sleep, lactation or early parenting supporter? Do you need some support with a client you're working with? Or would you like some one-to-one coaching in how to support families generally? Book one of my mentoring slots. I'll send you some reflective questions and you'll leave feeling clearer. I can support you with:
The type of support you offer families
How to get started
Troubleshooting
How to move towards a gentler style of parenting or sleep support
Understanding the evidence base behind sleep and responsive parenting
Unpicking more complex sleep, feeding and wellbeing scenarios
How to structure your support services
You can book a 1 hour (£200) session with me. Afterwards, I will email a summary of our conversation. Click on the calendly link HERE to see my availability and to book.
Lyndsey's recent talks:
Royal Society of Public Health and Institute of Health Visiting, London – The role of the infant feeding specialist
November 2018: iLactation Conference – Breastfeeding, sleep and the myths in between
January 2019: Fill Your Cup, Whitstable – Exploring holistic sleep solutions for breastfeeding professionals
March 2019: The Holistic Sleep Conference, London – History of Sleep Training
March 2019: Starting Off Well, Plymouth – Misunderstood: how interpreting infant cues can affect breastfeeding duration
April 2019: Lactation Consultants of Great Britain Annual Conference, Northampton – The Great Sleep Confusion, and Demystifying Sleep to support Optimal Parenting Experience
April 2019: GOLD Lactation Conference – Addressing Complex sleep problems while optimizing breastfeeding
July 2019: Starting Off Well, Plymouth – Night feeds and sleep, and The Sleep Gene
October 2019: Lamaze International – Lullabies and Lactation: Navigating bed-sharing, breastfeeding and safe sleep
October 2019: Australian Breastfeeding Association, Melbourne – Sleep training: History, heresy and harms, and Sleep Optimisation: the missing link in parent support
March 2020: Association of Lactation Consultants, Ireland – Supporting responsive sleep
March 2020: GOLD Conference – Breastfeeding children with cancer
April 2020: Sleeposium Conference, Ontario, Canada – Sleep series: Sleep biology fundamentals for advanced practice, The truth about night waking, How to support breastfeeding families in a sleep crisis, and The power of positivity – How understanding attachment, emotional connection and stress can transform sleep.
May 2020: ELACTA Conference, Milan – Sleep training: history, heresy and harms
June 2020: GOLD Conference – You can't sleep with your foot on the gas pedal
July 2020: International Lactation Consultant Association Conference, Texas – Breastfeeding the Brave: Supporting medically complex breastfeeding children beyond the neonatal period
August 2020: Australian Breastfeeding Conferences – Breastfeeding the Brave: Stories and Solutions
September 2020: CAPPA Conference, Texas – Slow down, speak softly, stress-free: How calm and confident parenting supports infant sleep
What People Say
Lyndsey has supported the city council for a number of years now with expert advice, training and education. She engages her audience and so it is not surprising that her workshops and presentations always receive excellent feedback from participants.

Gemma Scott
Advanced Public Health Practitioner, Plymouth City Council
Thank you for such a stellar presentation! It was apparent how much time, effort, and care you put into the. The participant feedback that's been rolling in on the survey has been very positive and there were a lot of heart-warming comments being made at the end of the webinar!

Jill Swanson
Education Coordinator, Lamaze International
Early results of the surveys indicate that you delivered one of the most illuminating presentations of the Conference, and Delegates would love to hear more from you!

GOLD Lactation Conference team
I found your talk extremely practical in order for me to better support mums and their children with feeding difficulties. On behalf of the RCGP, we wish to thank you for the invaluable contribution you made to the Antenatal and Paediatric Conference.

Dr. Catherine Millington-Sanders
Royal College of General Practitioners
We were so pleased to have Lyndsey on board as a speaker for The Breastfeeding Festival 2019. She was so prompt with all of the information we needed to sort out the event and advertising. On the day, she arrived early and was on hand to speak to event delegates. The talk she gave was very informative, factual, and practical. As with most things regarding infant sleep, parents want to hear not just the science, but practical ideas for how to manage a difficult sleep situation when they are struggling. Lyndsey was able to give parents positive ideas that didn't risk the well-being of their child. We are so pleased to have had her speak at the festival and would recommend her to anyone that would like to offer positive sleep support, and alternatives to the usual cry-it-out, to other parents.

J'Nel Metherell
IBCLC and Chairperson for The Breastfeeding Festival Milton Keynes
I would like to say a big thank-you for the presentation you gave at the National Neonatal Study Day. The feedback from the audience has highlighted yours at one of the most interesting of the day.

Rebecca Simpson
Advanced Neonatal Nurse Practitioner
Lyndsey's webinar, Lullabies and Lactation: Navigating Breastfeeding and Safe Sleep, was incredibly engaging and informative. She developed a natural connection with the audience and shared her expertise in a way that left learners feeling energized and more passionate about their work. Lyndsey approached the topic of feeding and safe sleep practices in a mindful way that utilized inclusive language and high quality, international research to inform her presentation.

Jill Swanson
Education Coordinator, Lamaze International
---
Hire Me For Your Next Event
---